National Intercollegiate Championships
Baton Rouge, Louisiana
March 25 - 28, 2020
USA Racquetball has cancelled this tournament. Please see our statement for more details.
CHAMPIONSHIP INFORMATION:
Click the link below for a printable entry form.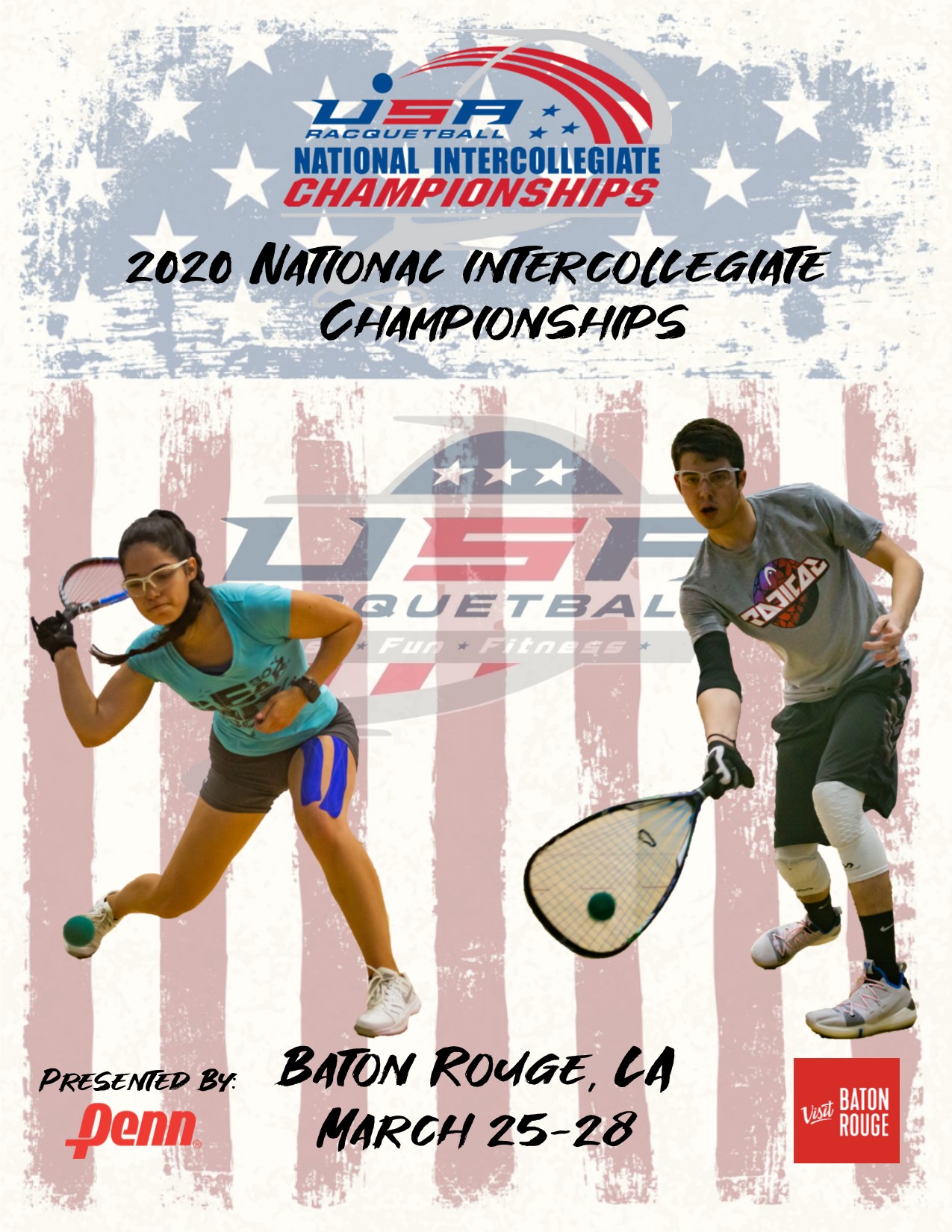 ENTRY FEE:
$80- 1st division
$45- 2nd division
DEADLINES, REFUNDS:
Online Entry Deadline
Friday, March 13th @ 4:00 pm -postmarked by March 6th
USA Racquetball reserves the right to close entries of any division as of regular deadline. Refunds (less a $10.00 service fee) are available prior to March 2nd, 4 pm MT. Additional fees may include $25 for returned checks and $10.00 for declined debit/credit cards. Refunds processed 7 days after the event is completed.
STARTING
TIMES:
Saturday, March 21st @ 4 PM online at usaracquetball.com
CHECK-IN BEGINS:
Tuesday, March 24th @ 4-7 PM at the Cook Hotel
PLAY BEGINS:
Wednesday, March 25th @ 8 AM
PLAY ENDS:
Saturday, March 28th @ 5 PM
AWARDS CEREMONY:
Saturday, March 28th @ 6 PM
*immediately after last match on show court!
VENUE:
Louisiana State University – Student Recreation Complex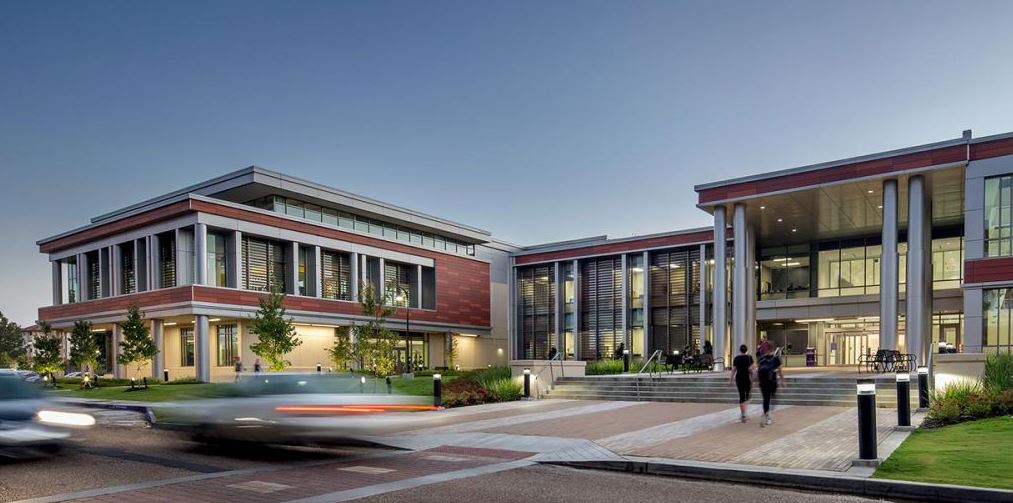 LSU 102, Baton Rouge, LA 70803
(225) 578-8601
9 courts
GROUND TRANSPORTATION:
Reserve your rental car with Enterprise and use discount code: USARDSC

LODGING: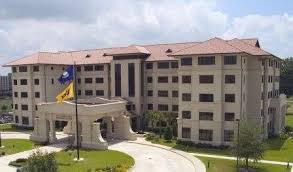 3848 W. Lakeshore Dr.
(225) 383-2665
$149 per night (single or double)
.3 miles from club

2421 S. Acadian Thrurway
Baton Rouge, LA 70808
(225) 924-6400
$102 per night (single or double)
2.1 miles from club
WHAT TO DO IN BATON ROUGE: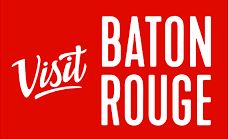 There's plenty to do in the Red Stick, so if you're looking to get out and explore, check out the city's nightlife, shopping, arts scene and more. We hope you will visit all of the historical and cultural attractions the Capital City has to offer! https://www.visitbatonrouge.com
TEAM USA: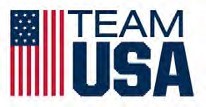 Champions in Men's & Women's #1 gold singles division will qualify for a one-year appointment to the U.S. National Adult Team. Players seeking a position in the US Team must be a US Citizen and play in the #1 singles division. If the winner is ineligible or declines the appointment, then the runner up may elect to fill the appointment. If the runner up is not able to accept the appointment, then position goes vacant.
ALL-AMERICANS:
The semi-finalists (4) finishers in each of the men's and women's gold singles divisions #1 - #6 and finalists of gold doubles divisions #1 - #3 will be designated as 2019 Intercollegiate Racquetball All-Americans.


TEAM COMPETITION AWARDS:
Awards will be given to schools competing in the team competition for 1st - 3rd in the Men, Women and Overall.
USA RACQUETBALL RULES:
USA Racquetball Official Rules will govern competition, including the mandatory use of protective eyewear.


HOSPITALITY & SOUVENIR:
Hospitality lunches and dinners will be offered throughout the event. A tournament gift bag will be given to all participants at registration.


CHAMPIONSHIP MEDALS:
All Divisions will receive 1st-4th place National Championship medals.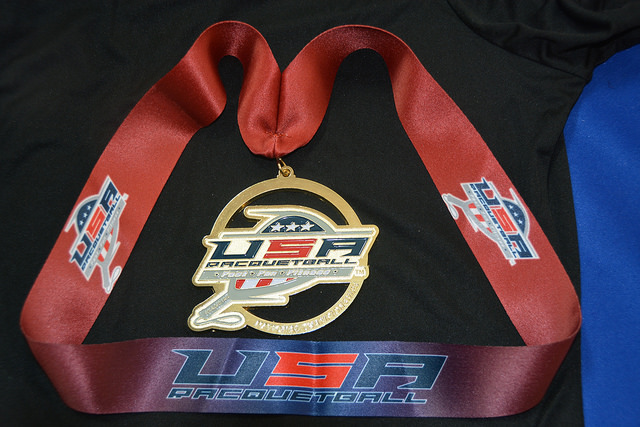 Collegiate racquetball is great fun and is a perfect chance to get away with your friends. Enjoy the camaraderie and lifelong friendships.


SATURDAY NIGHT SOCIAL:
We have arranged for a social night, Saturday, March 28th @ 9:00 PM. We will have a party by the Cook Hotel pool to enjoy as you mingle and get to know fellow players, coaches, and fans. No alcohol will be served.


NEW TEAM RULE:
Two men comprise a team for Men's scoring.
Two women comprise a team for Women's scoring.
Two men and two women (4 players) comprise a Team for combined scoring.
ADDITIONAL CHAMPIONSHIP INFORMATION:
STUDENT REQUIREMENTS:
An undergraduate student enrolled in an accredited U.S. college or university, herein referred to as "school", shall be eligible to compete in the U.S. National Intercollegiate Championships if they meet the following requirements: Full-time student as defined by the "school" at which player is enrolled *Enrolled in a regularly matriculated degree program at the "school" for which academic and competition eligibility is to apply, including two-year and four-year programs (certificate programs not eligible) *Student must be in good academic standing at the "school" in which the player is enrolled.


EXCEPTIONS:
Students taking the final courses that are necessary to obtain their degree in the semester in which the competition is scheduled are not required to be enrolled full-time. Graduate students engaged in coursework, research, teaching or thesis production which will lead toward the awarding of a degree are eligible. They must be enrolled full-time and have not used their four years of college eligibility.



COMPETITION ELIGIBILITY:
Athletes must have college eligibility remaining to participate in the National Intercollegiate Championship. Limited to 4 years of participation. Verification must be sent to the tournament director no later than March 20, 2020.



TEAMS AND DIVISIONS:
Teams shall consist of 4 to 30 players, men and women, from the same university/college. Teams cannot combine players from different campuses. Like singles teams, doubles teams must also be from the same school. •There are six (6) singles divisions, three (3) doubles divisions for men and women. No two players from the same team will play in the same division. Divisions are numbered 1-6 (singles) and 1-3 (doubles).
Two men comprise a Team for Men's scoring.
Two women comprise a Team for Women's scoring.
Two men and two women (4 players) comprise a Team for Combined scoring.
Singles players may enter doubles as a second event. If there are less than six players, men or women, on a team, divisions will be filled from the top first.
*For schools with additional singles players, they may play skills divisions.



TEAM SCORING:
Division I and Division II team titles will be calculated. To be eligible for Division II rankings, each school must already compete in Division II or Division III in basketball or football.



OPEN TEAM TITLE DIVISIONS:
Schools seeking national team titles in either Division I or Division II may field one men's team and one women's team, comprised of singles players #1- #6; doubles teams #1- #3. If someone is playing in Team Title Division Singles, they may not play in Skill Division Singles but may play in Skill Division Doubles.



SKILL DIVISIONS:
Part-Time students with eligibility are eligible to play in Skill Divisions.



FORMAT:
Olympic Format with 4 flights in each age group, Gold, Blue, Red & White, thus ensuring that a player typically has a minimum of 3 matches per division and eventually plays against similarly skilled players during the event.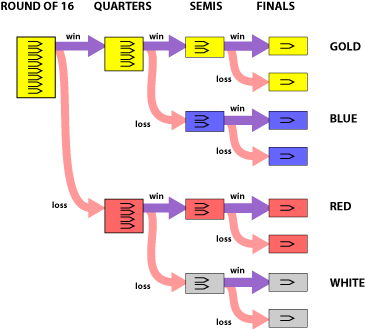 OFFICIATING: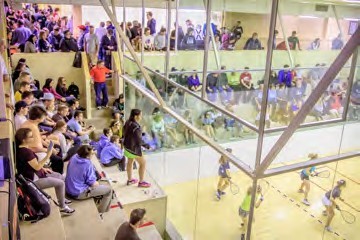 Match losers are required to referee or present a similarly suitable replacement. Players who do not referee will be penalized 500 points (from team total).


OFFICIAL BALL:

Penn is the Official Ball of USA Racquetball and the ProPenn Green ball will be used in all matches.
REFEREE TESTING:
All Players are required to take and pass the online A-8 College Referee Test prior to the event. The test is FREE!! To do so, log into your USA Racquetball profile> Courses and Testing > A-8 College Referee Test.



PARENTS & COACHES RULES:
All parents and coaches must remain in far corners of the viewing area on the court. No speaking directly to the referee and all issues or complaints must be brought to the tournament desk immediately.



ELIGIBILITY APPEALS / WAIVER:
Must be made in writing to championships@usaracquetball.comby Friday, March 13th @ 4 PM



TEAM ROSTERS DUE:
By Friday, March 13th @ 4 PM
Teams must have submitted their final player positions.



SEEDING AVAILABLE:
Online at the event site, Thursday, March 19th @ 4 PM



SEEDING DISPUTE:
Send an email to jhiser@usaracquetball.comby Friday, March 20th @ 4 PM



DRAWS AVAILABLE:
Online at the event site Saturday, March 21st @ 4 PM



TIME CONFLICT RESOLUTION:
Send email to: jhiser@usaracquetball.comwith name/divisions/school by Monday, March 23rd @ 12 pm

Click the link below for a printable entry form.