2008 "WALK OF FAME PLAZA" INDUCTION CLASS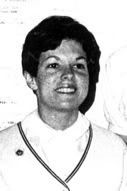 DIANE HALES (ATHLETICS) - Three time national champion.
Diminutive in stature, consistent, stoic demeanor, and a heart of a champion best describe this athlete.

PAISAN RANGSIKITPHO
Founder of USA Badminton Court Officials / Technical Committee, founder and author of 3 x 21 Rally Scoring Syatem adpoted by the BWF in 2006.
Diane Hales will be inducted for her athletic achievements, and Paisan Rangsikitpho will be inducted for his technical official contributions. Each will receive a beautiful Plaza tile to be completed in Spring of 2008. The next "Walk of Fame" induction nominations will be held in 2010.