Jordan Burroughs named TheMat.com Wrestler of the Week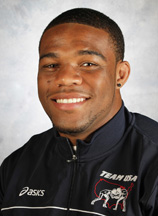 Jordan Burroughs (Lincoln, Neb./Sunkist Kids) has been named TheMat.com Wrestler of the Week.
Each week, TheMat.com will select an Athlete of the Week, based upon performance within wrestling for that week. The selection committee will consider any level of wrestling, from youth programs through the Senior level.
Burroughs earned victories for Team USA in the Rumble on the Rails event in New York City and the United 4 Wrestling dual in Los Angeles during a huge week for the sport this past week.
Burroughs beat Russia's Saba Khubetzhty 14-3 on Sunday at the L.A. Sports Arena under FILA's new rules. He won by a first-period technical fall after leading by 10 or more points. Burroughs dominated Khubetzhty after earning a three-period win over him under the old rules on Wednesday at Grand Central Station.
Burroughs, a 2012 Olympic gold medalist and 2011 World champion, is now 54-0 on the Senior level.
The events In New York and L.A. were held in conjunction with wrestling's worldwide push to keep the sport in the Olympics.
Note: To nominate a wrestler for TheMat.com Wrestler of the Week, send the athlete's name, accomplishments for the week and career accomplishments to Craig Sesker at csesker@usawrestling.org