Jordan Burroughs named TheMat.com Wrestler of the Week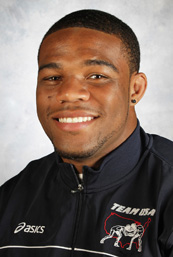 Jordan Burroughs (Lincoln, Neb./Sunkist Kids) has been named TheMat.com Wrestler of the Week.
Each week, TheMat.com will select an Athlete of the Week, based upon performance within wrestling for that week. The selection committee will consider any level of wrestling, from youth programs through the Senior level.
Burroughs went 5-0 to lead the United States to a third-place finish at the World Cup freestyle competition on Feb. 21-22 in Tehran, Iran.
Burroughs, a 2011 World champion and 2012 Olympic gold medalist, is now a perfect 43-0 on the Senior level. He was competing for the first time since winning the Olympics this past August in London.
Burroughs returned to his dominating ways at the World Cup, sweeping all five opponents in two periods.
He opened by downing Georgia's Jakob Makarashvili 3-0, 2-1 before defeating Japan's Sohsuke Takatani 2-0, 7-1. He ended the first day by sweeping Iran's Ezzatollah Akbarizarinkolaei 4-0, 2-0.
Burroughs opened the second day by rolling past Bulgaria's Stefanov Kirov 7-0, 6-0 before capping his unbeaten performance by defeating 2012 Olympian Ali Shabanau of Belarus 1-1, 5-0.
Burroughs is scheduled to compete at the Alexander Medved International this week in Minsk, Belarus.
Note: To nominate a wrestler for TheMat.com Wrestler of the Week, send the athlete's name, accomplishments for the week and career accomplishments to Craig Sesker at csesker@usawrestling.org